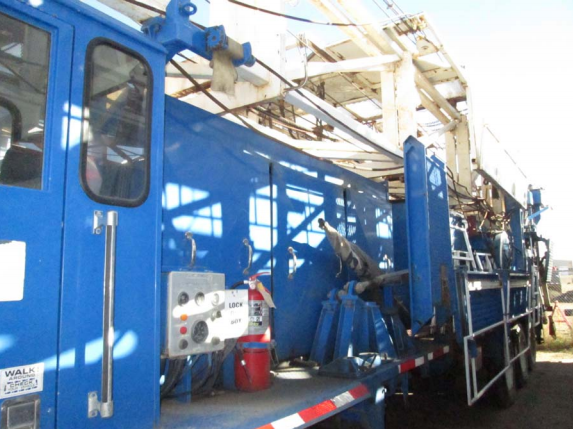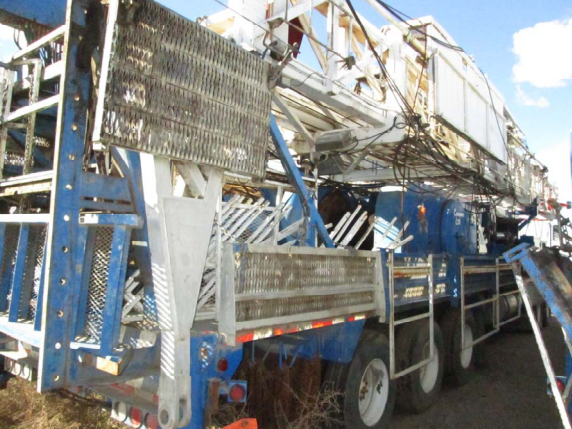 Engine: Detroit 60 Series with 1,188.1 hours
Transmission: Allison 5-speed 5860 automatic
Differentials: 46,000lb locking
Front Suspension: 18,000lb axle with multi leaf spring
Rear Suspension: Hendrickson RS rubber block
Tires Front: Mixed Brands 425/65R22.5 Condition: Very Good
Tires Rear: Mixed Brands 12R22.5 Condition: Very Good
Wheels Front & Rear: Steel bud
Additional Information: Positive air shut down system.
Year: (Plate is not legible)
Make: N/a
Model: N/a
S/N: N/a
Derrick Height: 95′
Max Static Hook Load: 82,000 daN and 4 lines
Max Wind W/O Setback: 65 M.P.H.
Additional Information: 75ton McKissick travel block. Currently there are
approximately 20,499 hours on the level IV inspection after the rig was recertified.
Overall this service rig appears to be in good condition and should have an
approximately 1 year lifespan before its next level IV inspection.