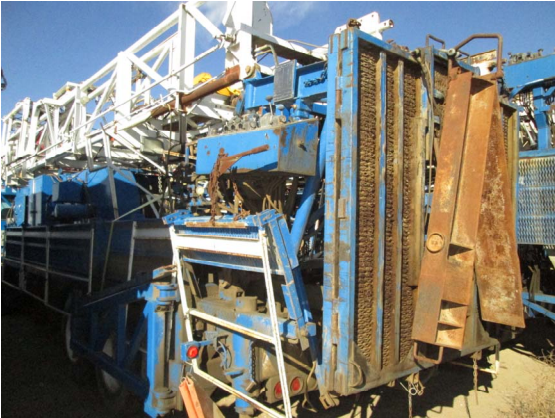 Engine: Detroit 8V71 with 52.6 hours showing
Transmission: Allison 5-speed HD750 automatic
Differentials: 46,000lb locking
Front Suspension: 18,000lb axle with multi leaf spring
Rear Suspension: Hendrickson solid mount
Tires Front: Bridgestone 425/65R22.5 Condition: Very Good
Tires Rear: Kumho KMD 12R22.5 Condition: Very Good to Fine
Wheels Front & Rear: Steel bud
Additional Information: Positive air shut down system.
Year: 2004 (12/2004)
Make: Skytop
Model: 70-150XY
S/N: 001
Derrick Height: 70′
Max Static Hook Load: 120,000lbs or 53,400 daN and 4 lines
Max Wind W/O Setback: 69 M.P.H.
Additional Information: 75ton McKissick travel block. Currently there are
approximately 8,054 hours on the level IV inspection after the rig was recertified.
Overall this service rig appears to be in good to very good condition and should have
an approximately 6 to 8 year lifespan before its next level IV inspection. This rig has
been parked for a couple of years and this is also reflected in the appraised value.